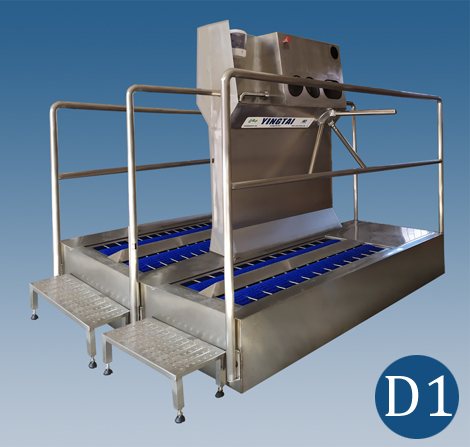 Multi function automatic (combined Edition)
Single channel type: 1800X860X1580 (high) mm

Material: stainless steel plate, aluminum profile high elastic import nylon brush import motor microwave induction switch of water pump intelligent controller

The use of places: widely used in clean room, clean room, air shower room entrance, electronics, bio pharmaceutical, food processing, precision instruments, hospital laboratories, research institutes and other personnel exchanges and more health conditions require a higher place.

Features: excellent cleaning effect, automatic water circulation, but also for people to use, durable, easy to use, simple maintenance.

Double channel type automatic sole cleaning + hand washing sterilization workstation, full function induction design, use of personnel throughout the contact free operation,
To avoid cross contamination. Induction to the soap wash, induction, induction dry hand disinfection, induction, induction start cleaning the sole.

Intelligent gate, through compulsory disinfection of hands before release through;
Clean and disinfect one-stop staff hand cleaning and disinfection + sole solution!